NHS Tried, Tested and Approved
When StrideOn Ltd began designing Knee Walkers for non-weight bearing injuries below the knee in 2011 the Directors took the decision that the prototype should undergo evaluation by an independent organisation. As a prospective user
StrideOn
wanted you to have not only a superb and functional piece of equipment but one that was scientifically authenticated.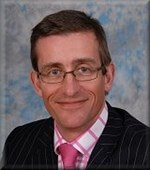 Mr James Davis a Consultant Orthopaedic Surgeon
in Torquay, Devon working in the and in the private sector expressed an interest. In summary an experiment was carried out to determine the energy efficiency of the StrideOn Knee Walker versus crutches and walking frames. To date this is the only Knee Walker to have undergone this comparison.
The outcome showed that the amount of energy used when using a
StrideOn Knee Walker
is similar to walking and significantly lower than mobilisation with a walking frame and crutches whilst elevating an injured limb. On that basis the final paper published in 'The Foot' a prestigious international scientific journal qualified the StrideOn as a device for routine use to aid early mobilisation of patients requiring restricted weight bearing or single legged weight bearing.
The paper further identified that using a StrideOn Knee Walker does not rely on maintaining stability using upper body strength and it also demonstrated less physiological demand on the cardiopulmonary system. This simply put means patients can mobilise earlier and more easily but also travel further and regain more independence. In addition, the StrideOn could provide economic benefits to hospitals through quicker discharges derived by earlier mobilisation.
The study was supported by the Department of Trauma and Orthopaedics, Torbay Hospital, Torquay and the Department of Health Statistics, Plymouth University UK. The study was also reviewed and approved by the South Devon NHS Foundation Trust Research and Development Department.
We are pleased to say that we have achieved our objective of providing a superbly engineered, functional and scientifically authenticated mobility aid for non-weight bearing injuries below the knee to support your recovery. The StrideOn and its cousin the
Orthomate
are widely used and recommended in many hospitals within the NHS and private sector throughout the UK and beyond.